(All artwork by Namaah Kumar) The fourth edition of Control Alt Delete takes place this year on September 28 at Sitara Studio, Mumbai, with eight alternative
(All artwork by Namaah Kumar)
The fourth edition of Control Alt Delete takes place this year on September 28 at Sitara Studio, Mumbai, with eight alternative bands taking the stage. The concept, inherently DIY in nature, shelves the idea of corporate sponsorship, instead opting for a crowdfunding model through Wishberry, allowing fans the option of paying what they like to make the gig happen. Akhil Sood speaks with co-founder Himanshu Vaswani about the idea behind Control Alt Delete.
AKHIL SOOD
One fine day, a little over four years ago, Himanshu Vaswani was sitting with guys from Bombay's alternative spearheads Split and Blakc [sic]. They were obviously drinking, because no good story is ever complete without a pint or two. Lots of words were spoken, many ideas shared. Usually, drunken plans tend to fizzle out with barely a pop. This one, though, actually led to the birth of an inherently DIY concept that we've come to love, Control Alt Delete (CAD). In its fourth year now, CAD today is an annual, truly indie gig curated and facilitated by members of Indian independent music's self-coined 'The Scene'. It's a group of guys who believe in the idea, in the movement, and who're willing to go through hoops – they're even putting their money where their mouth is – to make sure that young bands get a platform, and the spirit of indie music stays alive as the movement develops.
"The concept came out at a time when there was a serious dearth of alternative gigs," says Himanshu. "The alt bands were sitting at home; it was sheer boredom, and we decided to do something about it." It started off as a gig where the bands were actively involved with the whole process, and slowly, an ethos began to develop. The first two editions, in 2010 and 2011, were simple pay-what-you-want gigs, where audience members could contribute any amount they desired, and the gigs featured a host of alt bands. In 2012, Ennui.Bomb's Rishu Singh and his mohawk came on board, as did Nikhil Udupa from NH7, joining Himanshu as the core team of CAD. A far more cohesive structure to the very noble idea also began to formulate with the third edition.
"It's not a gig by just one person or one team," says Himanshu. "Multiple persons come in to the mix – some with money, some with other contributions. It's a collective pool, and the three of us are just facilitating the pool and ideating. The idea is to make it an open forum. It's not only a gig – the gig is the central part of it, but everyone kind of puts in something more on the table. There are no sponsors, no organizers; the crowd is our sponsor. That is the vibe."
Last year, the guys decided to expand on the existing concept. They wanted to make it a bigger gig, which raised that ominous question: Where do they get the money from? "We anyway had a pay-what-you-want structure, so we thought, 'Why not ask the audiences to pay before the gig?' That's when the idea of crowdfunding came in." The response actually exceeded their expectations, with all costs recovered, and the profits divided between the bands. "It's a complete non-profit entity – it might even turn into an NGO," laughs Himanshu.
As for this year, the team is trying to raise Rs. 2.5 lakhs, which would cover the production cost of the gig and also allow them to pay some money to the bands. A more realistic amount, Himanshu says, would be between Rs. 1 and 2 lakhs. "The response has been decent – not bad at all." So far, they've managed to raise close to Rs. 75,000, including offline (non-Wishberry) contributions. In fact, there's no obfuscation or glossing over the financial details; Himanshu remains very open about the whole thing: "We want to make everything transparent, so that the people know exactly how and where their money will be spent."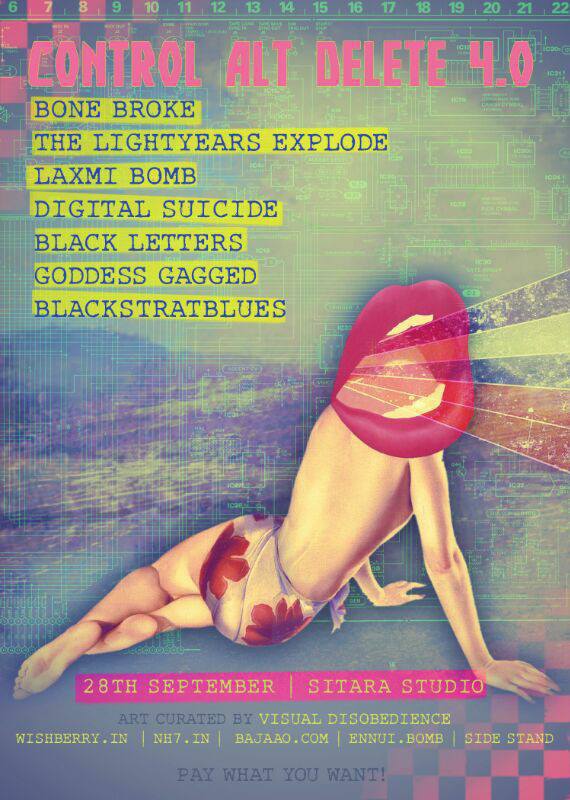 The absence of sponsorship at CAD is something he feels strongly about, saying: "Brands will give their money and they will demand their logos and ask for changes to the concept of the gig. There are a thousand other options for brands looking for 'deliverables'. This gig is for those people who believe in the scene – if they contribute, their names will be mentioned, and their support will be acknowledged." As Himanshu mentions, CAD is more than just a gig – it's an idea, an open forum. This year's edition also comes with its own fanzine, to be called Bhenchod, Madarchod (not judging), which will be available at the gig, as well as art at the venue by Visual Disobedience. "It's a nice bouquet of several people coming together doing multiple things," as he puts it.
Another important aspect of Control Alt Delete is supporting young bands, as clichéd as it may sound. "Conceptually, we wanted to take unknown names and give them a stage alongside bigger bands who'll pull in the crowds, right from the beginning. Today, indie acts are a very prominent part of the scene – life has become better for them. But we still want to give young bands a platform, along with the bigger names." This year will see Laxmi Bomb making their debut at the gig, while a couple of other bands will be performing in the city for the first time as well.
As for the future, Himanshu maintains that the plan is to consolidate and develop the core DIY principle of CAD. They want to have further acts from outside Bombay play at the gig as well, and while talks to expand CAD and host it in other cities have been had (over drinks, presumably), the logistics have so far prevented that from happening. But there is one surprise announcement that's going to please a lot of people. And while we'd love to tell you what it is, Himanshu has been known to beat up rats in the past so we'll refrain. Instead, you'll just have to show up at the gig and find out for yourself.
Support the initiative by contributing to ControlAlt Delete 4.0 here.