Notes from what happens when one of India's fastest growing music festivals makes its first sojourn to the North East
1. The number of wine shops on the highway en route to Shillong from Guwahati is unsettling. But then again, we were on our way to a festival sponsored by an alcohol brand. And one slightly-buzzed fellow later told us that it's one way to stay warm in this chilly weather. Fair point.
2. Ahead of the start of the festival, the Meghalaya government was out doing its bit to promote Weekender, from MLAs extending support and encouraging people to buy tickets to the Chief Minister talking about breaking a guitar to open the festival. No surprise to hear that they had honoured over 5,000 tickets on day two, higher than any other individual Weekender event to date.
3. Indus Creed frontman Uday Benegal let us in on how the festival nearly got called off. Individual accounts vary, but there was apparently a (very influential) local pastor who said he had a vision that an incarnation of Satan (how metal is that?) was going to descend on to Shillong if Weekender hosted Megadeth. A quick show of Mustaine's 'Personal Life' section on Wikipedia ought to have sorted that out.
4. On day one, Parekh and Singh (that's what they're called now) had a short but memorable set with all their futuristic pop from their next album // (that's pronounced Forward Slash). Jivraj Singh can play drums better standing up than most people can sitting down. It's like he has an internal metronome that's permanently set to another time signature.
5. Who would have thought a jet-setting band like the Raghu Dixit Project haven't been invited to play in Shillong for nearly a decade now? Turns out in 2008, the Bangalore folk singer was all set to head out to Shillong and dislocated his shoulder before the gig. He said at his as always one big happy set, "You guys owe me one song." It's surprising how much pure Kannada people can learn through 'Lokada Kalaji'.
6. How do you know Reggae Rajahs finished their set? Suddenly there's people blowing whistles around at other stages, trying to get into off-stage collaborations with everyone from Shaa'ir + Func to Nicholson. Those people weren't cops, then.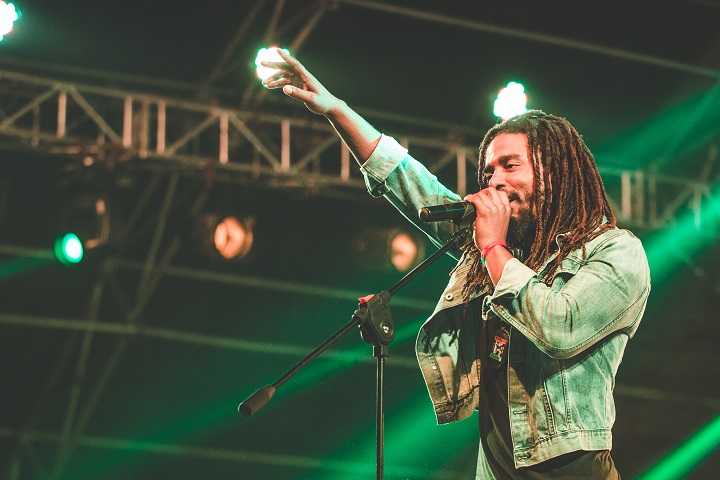 Photo by Himanshu Rohilla
7. The only guys who can say, "This bass line is from 1969" - the Wailers. Bob Marley's songs never sounded better immortalised than at the hands of six reggae artists who nailed everything from 'Buffalo Soldier' to 'Jamming' and coined the infectious catchphrase of "Shillong Shillong Shillong Shillong." A name so nice, you say it more than twice.
8. Your headliners might be reggae and thrash metal, but to get the local common Shillong resident to attend, you'd have to program Atomic Kitten or Justin Bieber. They love their pop. And Dire Straits, of course. 'Sultans of Swing' is probably on every cab driver's music system.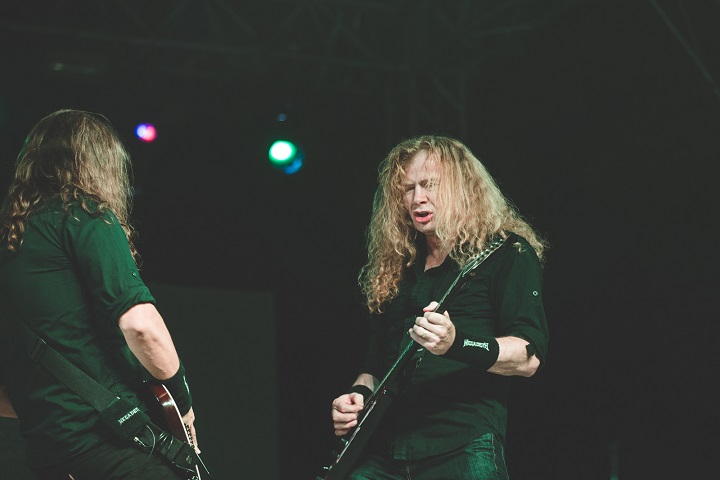 Photo by Himanshu Rohilla
9. It's true that the last band before Megadeth technically opens for them, but Scribe lost out a lot of people who were either bouncing to Nucleya at the Breezer Beat Camp or singing along with Kailasa at the Dewarists or just simply facing the Bacardi Arena instead, shouting out Megadeth even before the Mumbai hardcore band could stomp through songs like 'Mastibhari Muskaan' and 'Buddy'.
10. Despite hearing that Megadeth don't bring their A-game to the stage, they were worthy headliners to excite the hell out of Shillong. Chris Adler and Kiko Loureiro, the newest members on drums and guitars respectively, are probably influential in tightening things up. Kiko nailing that Tornado of Souls solo had everyone in a collective gasp of "Oh fuck!" That's how you metal.