Times Of Music suuccessfully creates a unique platform to honour Indian film composers from past and present
Music shows for digital or broadcast media in India and abroad have thrived for decades, encouraging talent and inviting established icons for marketing value while creating spaces to discover a new crop of singers. Many success stories like Shreya Ghoshal, Sunidhi Chauhan and Arijit Singh are known to be products of such shows.
Times Of Music claims to have changed the game and rightly so; it is an exhilarating experience watching legends from other eras coming together with new blood, melding past and present to collaborate in a new manner where they interpret each other's compositions in their respective ways to create incredible new renditions.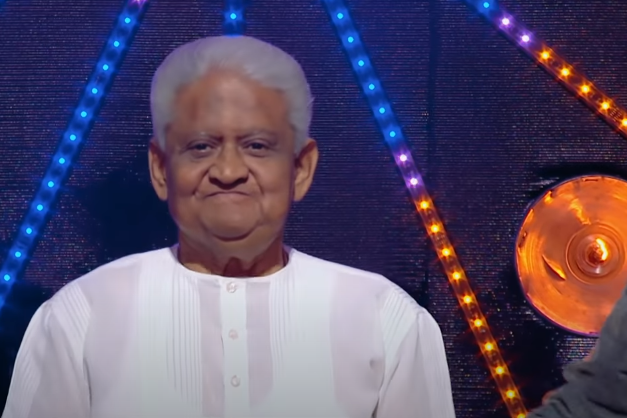 Pyarelal of Laxmikant-Pyarelal
Currently, the first three episodes released by the show streaming on MX Player bring together three legendary composers from the past: Pyarelal of Laxmikant-Pyarelal fame and Viju Shah and Anandji of Kalyanji-Anandji who are paired with current iconic composers Salim-Sulaiman, Mithoon and Ajay-Atul respectively.
We had the opportunity to speak to all three senior composers and discover stories about their life and work in music. Pyarelal Ramprasad Sharma, 79, is the son of a renowned trumpet player Pandit Ramprasad Sharma who composed music with his partner Laxmikant Shantaram Kudalkar (popularly known as Laxmikant-Pyarelal) for around 750 Hindi movies from 1963 to 1998, working for almost all notable filmmakers, including Raj Kapoor, Dev Anand, B.R. Chopra, Shakti Samanta, Manmohan Desai, Yash Chopra, Boney Kapoor, J. Om Prakash, Raj Khosla, L V Prasad, Subhash Ghai, K Viswanath and Manoj Kumar. Upon asking him about differences in the world of music then and now, the almost octogenarian composer quips, "Change needs to be accepted. Music is representation of the environment we live in and that changes with time". Salim-Sulaiman presented their version of 'Mere Mehboob' with a modern take while retaining the use of live strings, a trademark sound of Laxmikant-Pyarelal's compositions. Pyarelal believes the duo were able to do justice to the song with their western chords-system approach and praised them for reliving the moment again in a new and surprising manner. He also informs that 'Mere Mehboob' was originally a result of a first-time combination of singer Kishore Kumar, Lyricist Anand Bakshi and Laxmikant-Pyarelal. The show excels with such moments of re-discovering stories from the past while legends like Pyarelal are able to share valuable experiences with younger composers and audiences. Pyarelal's rendition of 'Shukran Allah' propels the song toward a crescendo of sorts with an orchestra of live musicians.
"I was fortunate to have a legendary composer as my father who pushed me to learn to read and write staff notation while training under various gurus in music. I became inclined towards Indian semi-classical and that is why you would find a lot of Indian instrumentation in my songs even though the arrangements may sound western."
- Viju Shah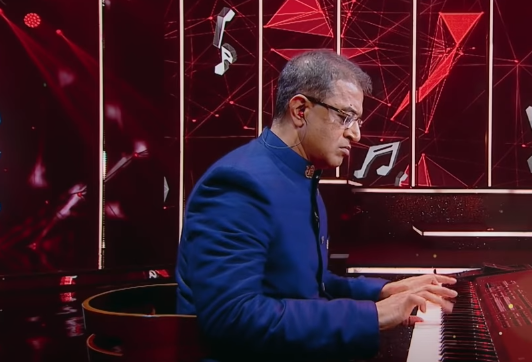 Viju Shah
Viju Shah recalls by the time he was drawn to music; he was more interested in tunes or melodic ideas than lyrics, whereas his father Kalyanji Virji Shah of legendary Kalyanji-Anandji fame would emphasise the importance of lyrics. He believes that times change as trends influence listeners, musicians and creators. "I was drawn to technology and electronic sounds in music attracted me. During the older times of my father, they had bigger studios and used more live instruments and as time passed, the usage of acoustic instruments became less. However, I didn't want to compromise on that sound. I may have enhanced that particular sound of the acoustic live instruments with my electronic keyboard sounds but I never intended to replace a live sound." says Shah when asked about the trend of sampling in music compositions and arrangements today. While learning music played a huge role in shaping the composer but he believes that learning to "arranging a song" was as important as learning to composing one. Selection of singers by film composers during the 80's and 90's was also a topic of discussion with the legendary composer and Shah seems to recall that during his time, it was never based on the protagonists of the film but a choice among the list of singers that the composer would suggest as per what he felt was best for the song in the film. The song and composition was always the main driving force in selecting a singer.
Mithoon and Vishal Dadlani
Shah collaborates with Mithoon on the second episode of this season. Praising the concept of the show, Shah emphasises that even though the idea of recreating a song is not new, Times Of Music allows for an opportunity that has no pressure or boundaries of any kind which usually exists in recreating songs for film or recording projects. The show brings music composers together for a free interaction and interpretation of each other's works. Shah introduces his episode with an outstanding performance on the keyboard playing Mithoon's song 'Tum Hi Ho' from the movie 'Ashiqui-2'. However, Shah also expresses his reservation when asked about the recreation of his 1996 hit 'Aankh Marey' which has found renewed life as a mega-hit today. "Definitely feel nice about it becoming successful again but I will say this for all music composers that when you are naming the credits of this recreation as 'music by Tanishq Bagchi', you fail to honour the original composer which i feel is unjust. His name should have been written as 're-created by" as that is the real role played by him. You cannot ignore the original composer. That is the only thing that I feel bad about with this. When an old song like this does well today, it feels great as this generation gets to hear an old classic but a lot of the audience today don't even know about the song's original composer". A similar reservation was also expressed by another iconic name on the show, Anandji of Kalyanji-Anandji fame in Episode 3 as he points out the same about his song 'Laila Main Laila' which was recreated for the movie 'Raees' by Ram Sampath. Anandji was unhappy about the kind of monetary compensation and odd credits conferred upon the original composers. "Aapko kaisa lagega ki aapne beta paida kiya aur woh apne baap ka naam nahi leta" (How will you feel when you give birth to a son and he is not able to take his father's name). Notably, the show allows the composers to express their views freely which is not such a common practise on the usually controlled environment of music shows. Ajay-Atul have no qualms about taking a dig on how the industry dictates terms that may present some unfavourable working conditions for the composers.
"There are not enough big studios anymore today. During our time we had minimum 60-70 live musicians recording at a time. There were no computers, so if anybody made a mistake, we had to record the song from the top all over again. Now everything is different and technology has made life much easier but it has taken away the role of live musicians. "
- Anandji of Kalyanji-Anandji
Anandji of Kalyanji-Anandji
It is interesting to realise the magnitude of the diverse range of work done by the senior composers at their time and Anandji tells us, "We were fortunate to have had the opportunity of working with a variety of directors, each of them commanding their unique identities as filmmakers. That access really opened up our minds to be able to create a wide range in our body of work in music".
Times of music is full of endearing moments that bring up emotions through interactions between the composers, especially during moments of presenting each other's works. Mithoon concluded applauding Shah's rendition of combining two of his songs 'Tosey Naina Laagey' and 'Aankhein Teri' from the movie 'Anwar' by saying, "Viju Bhai's work was always study material and even today it's study material. Once again he has done so by showing us this classic interpretation of these two songs while retaining a classic Hindi cinema sound". Ajay-Atul talked about their personal memories and relationship with the song 'Zindagi Ka Safar' as they performed a remarkable rendition of it by re-arranging the song with a luminous string section and choir.
Times Of Music earns its way through honouring both the past and present, available to watch via free streaming on MX Player. It packages itself well, the stellar production and presentation authenticates its intent. The very idea of getting another iconic musician and composer Vishal Dadlani to anchor the show is impressive and goes to show how this is one big leap from the usual format of music shows seen worldwide. Given the history of Indian cinema, a concept of this nature works remarkably well as it acknowledges a very important aspect of motion pictures in India: music.