The 5th edition of the three-day festival featured performances by Indian bands including Thaikuddam Bridge, When Chai Met Toast and Taba Chake and global artists like Swiss rock band Schnellertollermeier, French electro-jazz group NO Jazz, Malian guitarist Habib Koité and more.
Thinking of attending big music festivals in India is synonymous with the hefty amount one has to pay to secure the best viewing experience at beautiful venues. The best locations to hold these festivals have been metros or places that attract millennials. The Udaipur World Music Festival organised by Seher (an entity that has been promoting art and culture through different festivals and exhibitions over the last 15 years) does things differently. Started with an idea to offer different genres of music and musicians from across the globe and most importantly who have never been seen or heard in India under one roof, the festival is a one of its kind in many ways. To start with, the festival is free to attend. Secondly it is held at the most scenic and iconic locations of Udaipur. Built around the concept, 'We Are The World - Unity in Diversity', the three-day festival held between 7-9 Feb was a beautiful integration of music from around the globe that offered variety both in terms of genres and unheard instrumental experiences.
Just like the last editions, the 5th edition of the festival was held at three distinct locations across different sites in Udaipur; an extension of the concept of diversity in music that celebrates different moods of the day. The morning stage was at the famous 'Manji ka Ghat' Ambrai Ghat followed by afternoons at Fateh Sagar Paal and nights at Gandhi Ground. The most anticipated performers this year were artists such as Ankur Tewari and The Ghalat Family, When Chai Met Toast, Taba Chake, Thaikkudam Bridge, Advaita, Habib Koite (Mali), NO JAZZ (France) and Oques Grasses (Spain).
The festival commenced at a beautifully lit stage set-up at Gandhi Ground, a sports ground converted into a music venue with the inauguration made to Gandhi and Martin Luther King by Sudha Raghuraman and Jeffery Mpondo. It was followed by Punjabi folk rap and hip-hop singer Ginni Mahi, but what actually set the mood right for the night was the Swiss rock band Schnellertollermeier. With modern composition and brutal rock music, their style defied boundaries with their enchanting instrumental power that grows on you. Soon the Kochi based neo-folk Indian band 'When Chai Met Toast' took over and upped the energy levels even higher with its power packed performance. The crowd was seen singing along and grooving to their numbers 'Hop stomp' 'Firefly' and more. Day 1 was concluded with super energetic electro-jazz by the French Group NO JAZZ.
Another key highlight of this festival is the different moods it had to offer to enjoy distinct music genres. Unlike the evening set-up, mornings had a more soothing vibe. Held at the majestic Ambrai Ghat, Day 2 began with devotional music by renowned Carnatic vocalist Sudha Raghuraman who sang some of her own compositions including 'Guru Vandana'. Kiya Tabassian & Charbel Rouhana Duet presented a beautiful integration of music from Iran and Lebanon. They sung poems of sufi poet Amir Khusrau and 13th century Persian poet Maulana Rumi using an unusual instrument 'Oud', an Arabic instrument much like a Sitar from Persian music. Their musical dialogue was much loved by the small group assembled in the morning session.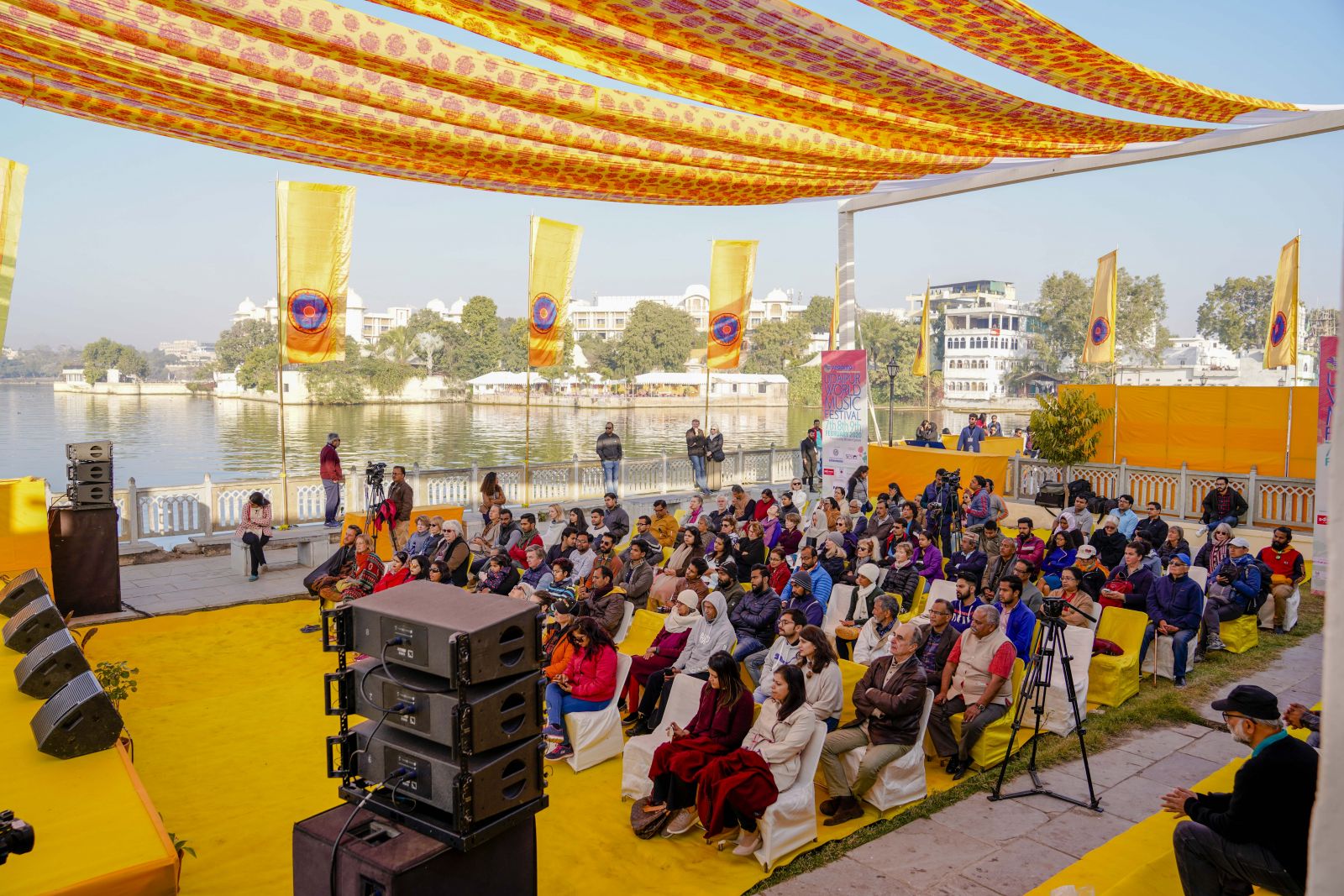 The second day's afternoon session started at 3pm. Walking down to the afternoon stage you can literally experience the calm and beauty of the Fateh Sagar Pal lake which was contiguous to the venue. 'Out of the Box: Jail University' opened for the afternoon session (As the name suggests, it's a group of jail inmates that has been learning & playing music while serving their terms), which was followed by a breathtaking performance from Sara Correia who presented Fado, traditional Portuguese music that sings of love, pain and separation. The last performance in the was by Ankur Tewari, who played some Folk Rock and Rock'n Roll music along with his famous composition 'Sabse Peeche Ham Khade'.
Unlike day 1, day 2 had a steady audience flocking to the Gandhi Ground stage for the evening session. Mame Khan bowled over the crowd with spectacular Rajasthani Folk music, followed by Habib Koite from Mali presenting West African folk blues. Then, Kochi based twelve-person monolith Thaikkudam Bridge took over the stage and brought the house down with music that was thoroughly energetic and engaging. They played originals from their debut album 'Navarasam' and from their new album 'Namah'. The album zips across power-metal, prog, 80s glam and jumps to funk, disco and orchestral sounds. They played some famous numbers like 'Saalaikal', 'I Can See You' and 'Thekinni' that features Chris Adler.
The third and final day started in the morning with devotional music by classical vocalist Ravi Joshi who presented compositions in morning raag Bilaskhani Todi and Miyan ki Todi . These are traditional raags created by Bilaskhan, son of the legendary court musician of Badshah Akbar Miyan Tansenji which depicts moods of pathos. Shri Ravi also sung compositions in Raag Bahar which depicts a joyful mood welcoming spring. He concluded with the 'Nirgun Bhajan' of Pandit Kumar Gandharvaji . Mico Kendes presented music from Kurdistan. His music contained stories, songs, epics and legends of the kurdish people. He played on a Lute along with his partner François Clavel on percussion. Their music moved the audience to silence.
The afternoon session of the day had hindi pop fusion by Pakshee who sang songs in Malayalam and Hindi. This was followed by a breathtaking performance by 'Sattuma' who presented Folk Karelian Music from Russia. They moved the audience with their foot thumping music singing Finnish songs 'Country Guy' and 'Yes Of Course'. The last performance in the afternoon session was by Arunachali musical prince Taba Chake, known for his animated music video 'Walk with Me', mesmerising the audience with songs like 'In Waadiyon', 'Morning Sun', 'Meri Dastaan' and This Is The Day'.
The festival was well organised with special arrangements like a boat ride to and fro for the morning venue. Something worth noticing is that the organisers kept a good balance between the global and Indian bands. The sound was well managed by Mumbai based Four by Four experiences, who has been associated with the festival for the last two years. UWMF continues to innovate and be an honest voice in the music festival and event space, and we think that it is important that it continues to have succesful editions in the years to come.