It's a tale as old as time. Any band that wants to tour around and outside the country knows that there's a lot of work and money that goes into planning it. And for most new and upcoming bands, such things are almost impossible to work out and break even without some sort of outside help. The only alternative to this is doing corporate shows and trying to get funds through the office circuit. This entails playing cover shows and selling out to a large extent, but the argument for doing it is that if you want to make your art for a long time, you will have to make some sacrifices along the way. Man.Goes Human is a rock band from Delhi that has taken this approach to facilitate it and they are presently in South-East Asia for a collection of shows as part of their 'Mac Qua' tour. Here are their thoughts on putting such things together.

You guys have been in the scene for quite some time now. How do you feel touring and so on has changed in recent times?

Receptive audience is all that matters. When we can't find those here, we have no choice but to go abroad and seek them, Social media helps to arrange DIY tours, but it all comes down to initiative & a lot of patience. India is home, but that experience of playing and being appreciated by an international audience has its own essence.

There's some focus on the expense of putting together a tour on your own. You have a DIY approach to this whole thing; how do you try to get the money put up for something such as this?

Some sell their souls, we do that too, albeit differently. We still manage decent shows here, but corporate shows really help live bands to muster the required resources for such DIY tours. For us too, corporate tours play a vital role, though we pick and choose the ones where we don't have to stoop too low. And yes, a selfless attitude goes a long way to save that money for further tours & keep going at what we believe in.
The band has played at a range of festival shows and done a bunch of stuff with corporates. What is your general feeling about the corporate circuit in general and whether bands should feel like their art is being diluted by entering it?
We believe there's always a way around everything. We always try to cover songs in a funky way, making our own versions and getting across to the 'corporate' audience too. There's a big chance for your art to get diluted, but when has there been any gain without pain?
"Persistence. Sweat. Hard work. Talent is only 10% if you want to do such tours. Also keep your ego aside. You're the all-singing, all-dancing crap of the world."
- Man.Goes Human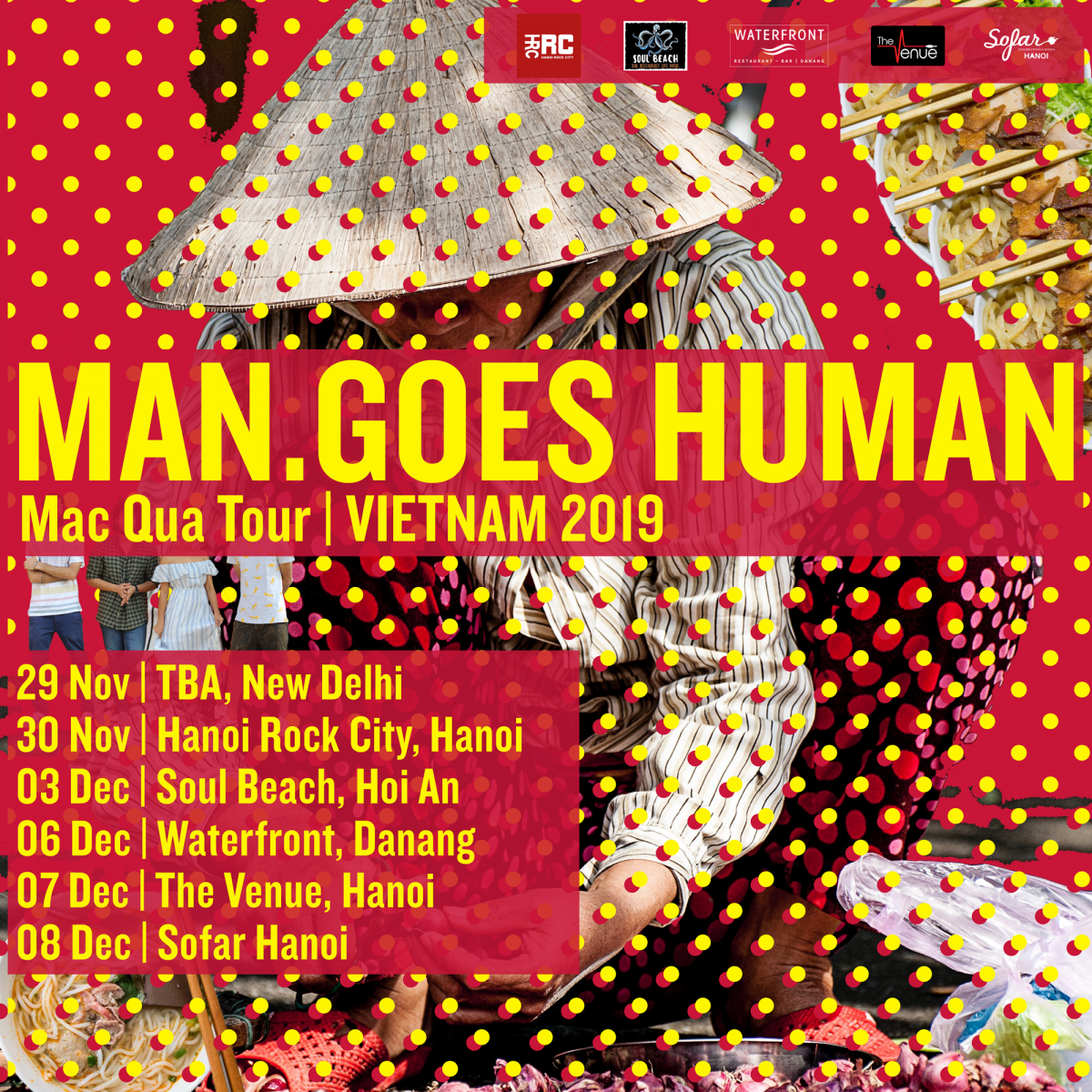 Poster from Man.Goes Human recent tour
Seeing as this is your third time in South-East Asia, how has your general experience been there?

We love Thailand. We toured several small cities there, and quite frankly we haven't ever experienced anything like that. People know local musicians and come out to support all kinds of music. Singapore is also like that, first preference is always given to local musicians. If we could, we'd move there. Also, the food is heaven. Next up- Vietnam- we are writing this from the City of Joy, during our stopover by the way.

Finally, since this whole idea is relatively challenging, how would you advise a young band that's just starting out with big dreams on how such tours can or should be done?

Persistence. Sweat. Hard work. Talent is only 10% if you want to do such tours. Also keep your ego aside. You're the all-singing, all-dancing crap of the world.