The world of music, and especially rock music, was shaken by the death of legendary guitarist Eddie van Halen. Over his long career, he defined the guitar for so many people and the world of rock from the 70s right upto his unfortunate passing in October. He touched many lives. His son Wolfgang aims to continue that in spirit, thankfully; along with being part of his dad's band for a time, he played on Mark Tremonti 'solo' project and is now releasing a solo album of his own, the first single of which ('Distance') came out recently.
Filmmaker and writer Harish Nair (he is currently a visiting faculty in Delhi at Jamia Milia Islamia, has done a series of films that are more towards the art-film side, and writes for projects on streaming services) had a conversation with Wolf about his dad, his music and his future; needless to say, Harish is a longtime and passionate Eddie van Halen fan. That conversation is presented below.
How did you become part of Tremonti (Mark Tremonti's band)?
I had been friends with Mark for a handful of years; he needed a bass player and I happened to be in New Jersey at the time. So I went over one night at midnight and learnt the entire set, and the next day we were on tour!
How was it working with van Halen (the band; Wolf was the bass player for its last incarnation)? Was it any different from your more recent experience with Tremonti, and how was it working with Eddie, having been around him your whole life and so on?
It was a really fun time! It took a while, but the fact that we got it done is pretty crazy. I thought it was a good idea to kind of reignite the flame by looking back at older ideas to, you know, get everyone back into the headspace that there was before. So yeah, I'm really proud of what I did.
It was a little bit different… definitely more of a hands-on approach, because Tremonti is much more of his solo thing than a more collaborative effort.
It was a great time being able to work with my dad every day, of course!
How do you think he inspired you?
It was just every day… I mean, I don't think I'd be playing music if not for how much he inspired me. I think… as amazing of a guitar player he was, he was just as good, if not better, of a father.
Your new video for 'Distance' (the first single from his upcoming solo project debut as 'Mammoth WVH') said a lot; it's a personal song. Is it something you already had or did you develop it more recently? When is that album coming out?
I've had that song for a while but didn't finish it until everything happened two months ago. I just felt like I should release it for him, give the money to his favourite charity as a tribute…
The album's coming out in spring, but we don't have a date.
Do you remember the first time your dad played '316' for you?
The first time… I'm not sure, but I was going through some home videos and found one of him recording it; I didn't realise I was in the room! I must've been a couple months old then. So yeah, he was probably playing it even when I was couple of days old.
""I think… as amazing of a guitar player he was, he was just as good, if not better, of a father.""
- Wolf van Halen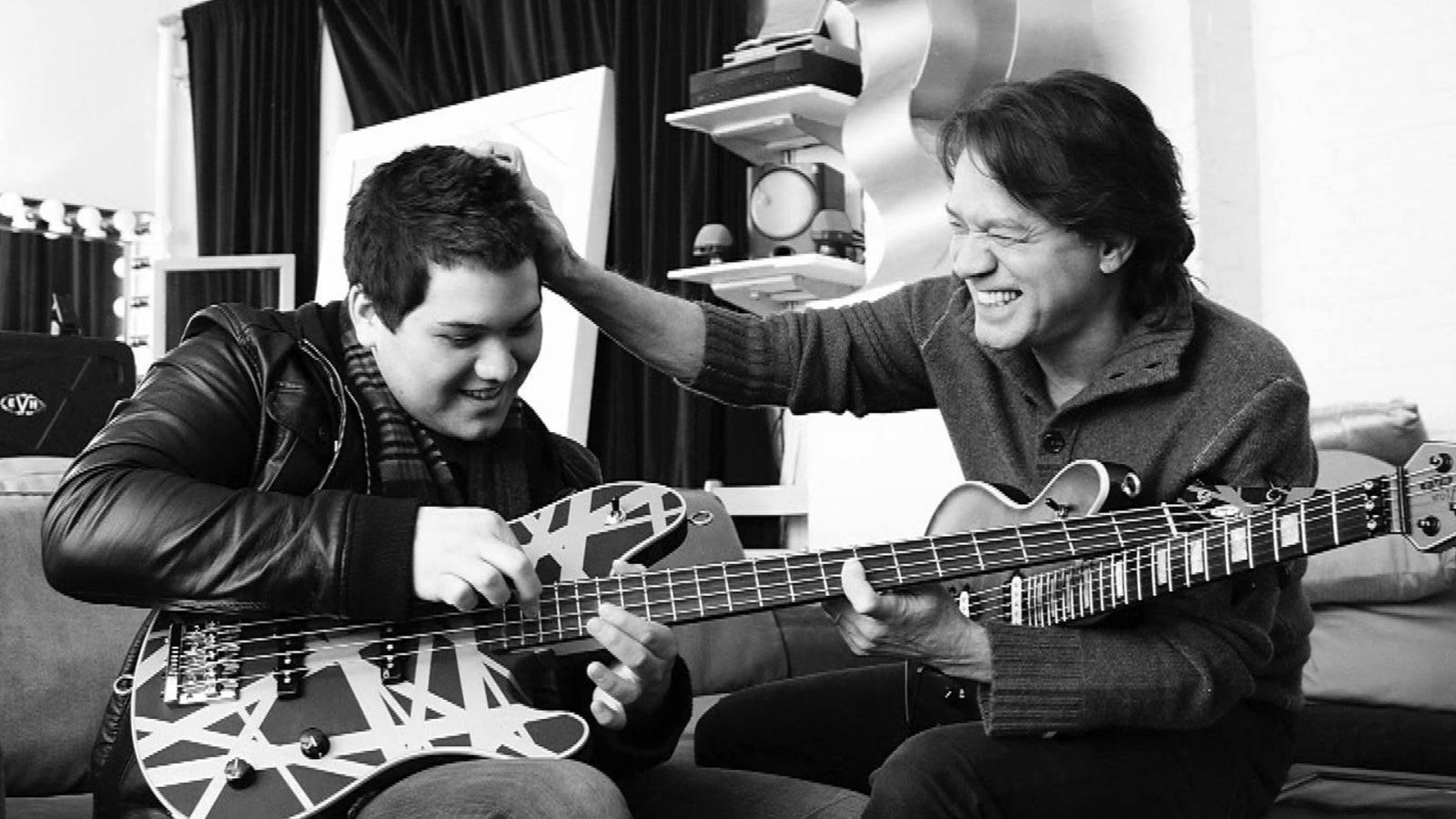 So what music can we expect from your new album? Do you have a title yet?
No, no title as of yet… There are going to be a range of sounds on the album. You know, 'Distance', but other songs that are heavier and more rock-based for sure, so I think any fan of the genre would like it.
Was it like you had to be a musician, or did it come up as you were there? Also, you started with drums, right?
No it just came up as I was around it… my dad was never forceful with it. Yeah, I started with drums when I was 10.
How was it growing up? Did you ever see him as a famous guitarist? And besides him, who were your other influences?
Not really… I mean, I didn't have anything else to compare it to, so it was pretty normal for me.
Well, for this project at least, Foo Fighters and Nine Inch Nails are big inspirations because they both started with one guy and built from there.
Once the pandemic is through, do you have any plans of coming over to India?
Oh for sure, I think it'd be super fun. I plan to as soon as it's safe to do so.