'The Resurrection Of The Princess Of Woe And Her Vampire Hound Posse' still stands on its own, and it taught us how to stop worrying and love the music
In 2013, Kamal Singh started HOIRONG. It was without preamble or, to be honest, context, and that's what made it interesting. The project has a quiet, loyal group of listeners who refrain from advertising themselves under labels of 'taste', which is sort of emblematic of Kamal's work; simple artistic expression. HOIRONG's last album 'Hope And Light' came out in 2020, an explosion of positivity through abrasive, loud guitar-driven songs that were either deep or just fun depending on who you were. Possibly both? Up to you.
Kamal's first album as HOIRONG released in 2013, 'The Resurrection Of The Princess Of Woe And Her Vampire Hound Posse', which was as interesting and fresh as its title. That album celebrates a decade this month with a reimagination called 'The Reincarnation Of The Princess Of Woe And Her Vampire Hound Posse' (and yes, we're going to use the full title every time), with every song being covered by a different artist; from Pacifist to Disco Puppet to Audrey and everyone in between.
Kamal has a story to tell and an outlook on life, music and the scene that is far from being cookie-cutter. Therefore, a conversation with him was always going to be a nice thing.
Your first album as HOIRONG was ten years ago; the indie scene was transitioning from purely big gigs to smaller pubs hosting new acts doing original music every weekend… Do you remember what it was like in Delhi back then?
Around 2013, I was just leaving Bangalore to go to Delhi to study music therapy. This could just be something I'm making up in my head, but what I remember is that in Bangalore, music was in a decent place… bands making new, original music. Before HOIRONG, I was in this band Lounge Pirahna (Writer's note: Indian indie history). Back then, you were specifically told by organisers to just play covers… We weren't really into that, but we started messing around, playing Britney Spears, La Bamba and all that.
We were doing this at open-air shows like Oktoberfest back in the day; we used to play Hotel California, for example, but badly – we'd make up words, deliberately play wrong chords… Eventually my style of playing changed; my roots are in more punk, faster, heavier stuff that didn't really have a place in that band. So I just decided, I have these original songs, let's just put them out. That was the first album.
When I moved to Delhi, there wasn't too much happening, but it's funny, our first live gig was there and was part of an RSJ event, Live Nights! Bann (Chakraborty) was super supportive with that, and it's funny we're here talking about it.
Funnily enough, covers and tribute gigs have come back now, and I've heard a lot of people say it's a smart, new-ish thing and an interesting business move! Like they've 'figured it out'. That's hilarious.
"I had to find this way to not think about anyone else or anything else and just express myself, as just myself, without any limitations. HOIRONG is exactly that."
- Kamal Singh
Considering HOIRONG was quite a change (to the outside world) of pace for people's image of you, did you think about releasing it a certain way, or differentiating yourself artistically?
Not at all! In fact, it seems like there's some sort of big identity behind this, but there isn't. I actually find it quite frustrating and limiting as a person that makes something… I've experienced this situation before where you're not allowed to be yourself. I had to find this way to not think about anyone else or anything else and just express myself, as just myself, without any limitations. HOIRONG is exactly that.
Even the name… (though it ended up being catchy or whatever) I had two ideas, Shaata (Writer's note: this is hilarious and amazing) and HOIRONG. I was talking to a friend who was like "These are both pretty silly" and that's exactly what I wanted. I was done being taken seriously and I couldn't handle that vibe. It's actually really annoying when you see that in the creative space.
Like, if there's someone listening to your music, they connect that to what they think you are as a person, and then they get into analyse-mode. They sort of build up that idea of you whether you know it or not, which is exactly what you wouldn't want, right?
I actually understand that, because that's from the listener's perspective. That's ok, I've heard people tell me my creative direction is distasteful or something, and I just think "There's like 20 of you, relax. It's not like we have 2 million followers" … what I mean is the co-creative space where you're around other musicians, artists. That's also super important.
Well, you have 13 acts covering your own music on this 10th anniversary release, so people have been listening and now even covering your music, so the co-creative process went well here!
So this is different too… Honestly, I didn't think it would happen. These are people who understand you and get it, so I had this idea of doing this album, but I didn't know who would. Then I contacted a bunch of people I liked, and this just happened! I know it's out, but I still can't really believe it… In some ways it's a milestone. It sort of shows that the last 10 years actually mean something, and something came out of it.
There's also not much to see as such, you know? I do music therapy for a living, which is only now gaining traction because we're seeing results. Now what was just belief is coming together, and then there's this band, which is basically who I am. And it does have value, and while I know it's not going to go anywhere, I'm still doing it. It's a struggle, funny and weird as it might be, doing HOIRONG stuff. There's a lot below the surface, but it seems to have come through, and people have actually told me that. This has helped people even in the pandemic, which is unexpected, but that's, you know. That's really cool.
Hope And Light, HOIRONG (2020)
This is a strange question, but you put out a Christmas EP in 2013. Back then, us fans thought that was the funniest thing ever. Why did you decide to make a Christmas EP of all things?
(laughs) You know, during Christmas, I get a bit sad and emotional (I'm laughing now just saying this). I listen to carols and think of my friends and stuff, but that sadness makes me laugh in a way. I'm finding it really funny and great that you found it funny, because it's just a fun thing I did!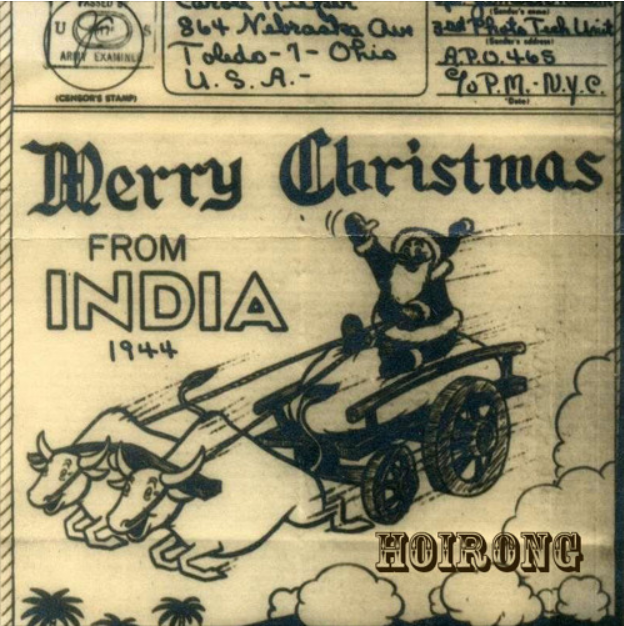 That idea has always been around HOIRONG and this re-release of your debut album; it's different styles, artists, sounds… it seems like this element of fun has been important here too.
Yeah, absolutely! It's fun. In fact, the achievement of it all isn't important here. It's just such a good listen. You find so many genres and legit nice music, it's more like having a good time. Everyone has their own vibe, and it's obviously gratifying, but that's not the focus.
In fact, I'd made a group with all the artists to get the album on streaming, and all of us were talking about just how much everyone has just been listening to it. That's the best part about it. There's nothing obsessive here. Even the song that the Jazz B'stards did, for example, that thing is eight minutes long but it doesn't feel like it.
It's just 45 minutes of really nice music to listen to.
Listen to 'The Reincarnation Of The Princess Of Woe And Her Vampire Hound Posse' here.