Regarded as perhaps the most intriguing, and experimentally cutting edge musical act, Kolkata-based experimental electronic fusion band PINKNOISE, have recently released their much awaited debut LP, The Dance Of The Diaspora. With guitar god Amyt Datta, drummer Jivraj 'Jiver' Singh, vocalist Jayashree Singh, and bassist Gyan Singh; PINKNOISE's music is fervently defiant of any genre, pattern, or form, and has redefined the very persona of a musician in the Indian independent music scene. We spoke to Jayashree about her experience working on the album, and all the ups and downs the band has faced, since the tragic demise of bassist Gyan Singh [RIP].
RSJ: How would you define PINKNOISE's music?
Jayashree: Beyond definition actually [laughing]. I think we prefer not to define it you know, because when you define it, it is kind of put in a box; I think what we do is quite out of the box. It's a conscious attempt at not to box ourselves into this genre or that genre.
RSJ: The Dance of The Diaspora has been in the making for about four years now; tell us a little about the album, the idea, and your experience working on it.
Jayashree: We've been working in line with the way we write our music, in the way we present and produce it. We do stuff in a way that also seems to be backwards, because normally a band would record and then release the album, and then perhaps promote the album; but we wrote these songs a long time ago. We've been working on these songs for about four years almost, and we kept thinking that we'll record but that never happend for some reason or the other. Then we started recording three years ago, but then Gyan [bass] fell ill. So, for a year everything stopped, we really couldn't do any kind of work at all; we couldn't play, we couldn't record. And then, Gyan got much better, and during the period that he was up and about, he recorded his bass tracks. And then he passed away, after the recordings; and everything was on hold again.
Jiver [drums and design] had already recorded some stuff, and by the time we listened to it after kind of settling down after Gyan's passing away, our life kind of got back, some way or the other. And then he [Jivraj] decided that, 'I don't really like what I've done', so he re-recorded a whole bunch of stuff; that took a while. After that I was really not in the best condition to do the vocals. Gyan passed away in November 2012, and then till the middle of the year [May 2013] I was not really upto doing any kind of recording. I wasn't even up for spending time on the project. But Jiver was insistent and he said, 'If we don't do it now you know, we're never going to do it. And we really have to do this for baba', because he's just done the best bass takes ever, and we can't afford to not put this album out. So, he would kind of drag me into the studio everyday; fortunately the studio is at home where we do all our recordings. I just went, and did whatever I could. I'm not really happy with my vocal takes, because [A] my voice wasn't at its strongest, physically; and [B] I wasn't at my strongest, emotionally either. But, like Jiver said, 'If you're gonna wait for 'that' time, by that time its all going to be over; lets just do it. Whatever comes out, comes out; we'll figure it out.' Since we didn't really have the pressure of the red light, like in a studio which you have to pay for, I was able to at least get as many more takes, until I was half-way satisfied with what I had done.
Then [early 2014] Jiver got very busy suddenly; he was travelling in and out of India for quite a while, and had extended trips to Europe also. So, the mixing was on hold, and he started mixing once he was back and was going to be in India for a bit. And it took about four months for the mix, because again there was some… All kinds of things have been happening you know [sounding overwhelmed]. Jiver's now also had to start helping out with Gyan's business; that was a new thing for him as well. So, it was tough to find time for everything. I've also started going to work, helping out at work. So there's a lot of upheaval in our lives. But, I think it came together at a time that it needed to.
RSJ: Would you say the band is recovering from the loss?
Jayashree: You know, how can you recover from something like this. You can't. I mean we're never going to recover, it's going to be very difficult for us to replace Gyan; because PINKNOISE has never been about the notes and the technique – even though all of that's important – but the music actually comes out of the kind of people that we are, as individuals. So, each one of us has a very specific, and very personal thing that we bring to the music. So, right now we have been playing live with his bass tracks, but that means that we only have these ten tracks to play with. And we haven't actually started writing at all for some reason, that's also not happened because of one thing or the other.
But, once we start writing, then I don't know what's going to happen; whether we're going to use another bass player, or whether we'll just go with the recorded bass. I don't know. We haven't really figured it out. For Skinny Alley we have another bass player, because Skinny Alley is quite active actually. We've been doing a lot of gigs in the last year or so. But with Skinny Alley's music we do a lot of gigs where we do only covers, like dances, parties, and stuff. But for PINKNOISE, we only do our stuff, and that too this very strange kind of stuff. We'd either have to find a strange enough bass player, or just use the recorded bass lines – which is not the best way to do it because the fun was to get up on stage, kind of forget the stuff we've written, and just create new stuff on stage.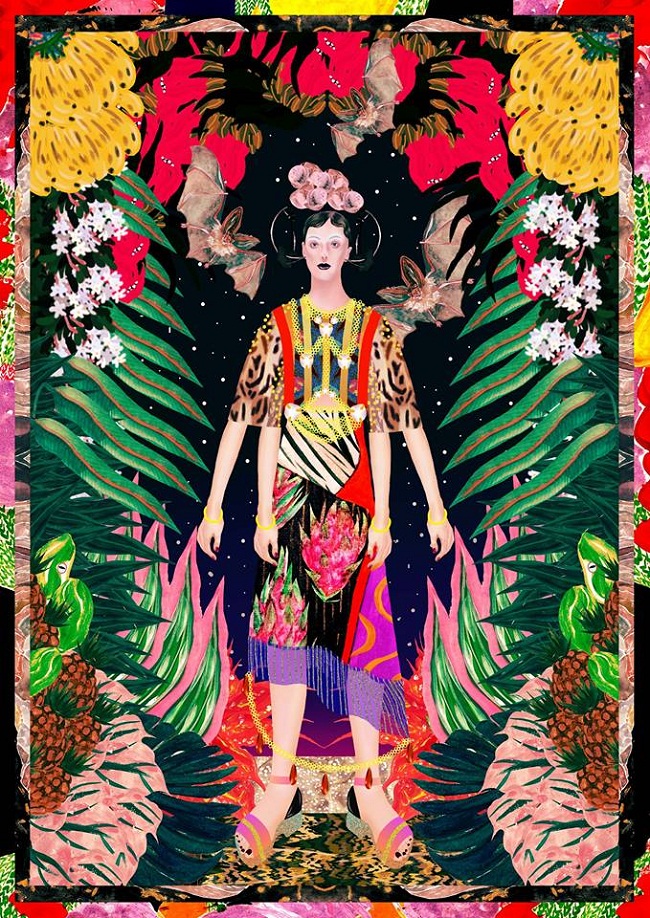 Album Artwork by Yashasvi Mathis

RSJ: What's an average PINKNOISE jam session like?
Jayashree: You know when you say things like, regular, normal, define, and all, I don't know what to say because nothing is regular. Everything happens so strangely. It could happen from some chords that Amyt [guitars and synth] has been toying with and brings to the rehearsal; it get's fleshed out into a song. Or, just some lyrics that I might have written, or just a groove that Jiver has, or a conversation that we might have had at the dining table, or a bass line that Gyan has just been playing and we walk in and hear that and say, 'Wow that's really cool'; and then Jiver will start playing along with him. It was all very organic and amazing actually. Very very lucky.
RSJ: When is the next PINKNOISE gig?
Jayashree: We don't have a next gig actually. As I said, we haven't really thought about it. But, I'm sure once the release happens, we will need to. Right now its just a digital release. But, once we figure out what we're going to do abut the physical release we will have to start travelling, and somehow get back on the road. But frankly, we haven't really thought of it, beause there's so much to do with the realese, the artwork, and all of that.
RSJ: What are your plans for the recent future?
Jayashree: I'm of the opinion that we should work with a bass player, because I'm old school. So that, that way you're not tied down to a track. I'm not very comfortable with tracks, but Amyt and Jiver are so comfortable with tracks because they have a duo thing also, which works purely with tracks. They are comfortable, I'm not very comfortable. So lets see, we're going to have a bit of a war on that; I can see it happening. So let's see how it pans out.
Stream The Dance of The Diaspora by PINKNOISE on the NH7 Audiolizer here.