Sky Rabbit will be playing their last show of the year at 100 Pipers India Music Week, on December 8 at Blue Frog, Mumbai, along with Blackstratblues, Soulmate, The Supersonics, and Spud in the Box. We speak with them about their evolution as a band, their approach to writing songs, playing at the India Music Week, and watching Jaga Jazzist live.  
Mumbai's electro-rock band, Sky Rabbit, have never been one to play by the rules; fusing elements of electronic and indie music with alternative rock, the band's music sets itself apart as soon as it bounces off of your ear drums. It isn't difficult to notice the evolution the band's music has experienced through the last decade as you read deeper into it. Since their nu-metal days as Medusa and after releasing their debut album, Survival Of The Fittest, and being one of the four bands selected by the British Council for Sounpad from India, the band witnessed a series of line-up changes and unbridled experimentation with their original sound. It was around this time, that the existing members, Raxit Tewari and Rahul Nandkarni, who were left to their own devices, got a hold of electronic equipment like samplers and started playing around with computers in a bid to re-discover their musicality.
Watch Sky Rabbit playing 'March' live below:
Vocalist and composer, Raxit Tewari tells us about their transition between these seemingly distant forms of music: "It was really gradual, it happened over a period of time. We started interacting with computers and over a period of four or five years we started writing tunes like that which we developed, and it felt more like the sort of thing we wanted to do. And we started working in a space that was slightly outside a jam room, so we really started digging for sounds and the way things fit in and started looking at it from a slightly different perspective. And that got us even more fascinated with the idea of sound and crafting in general, and everything sort of came from that. And this all happened over a period of six to seven years. It was so gradual that it was kind of hard for us to notice it until we came out and people said, 'Oh, you guys have changed.' "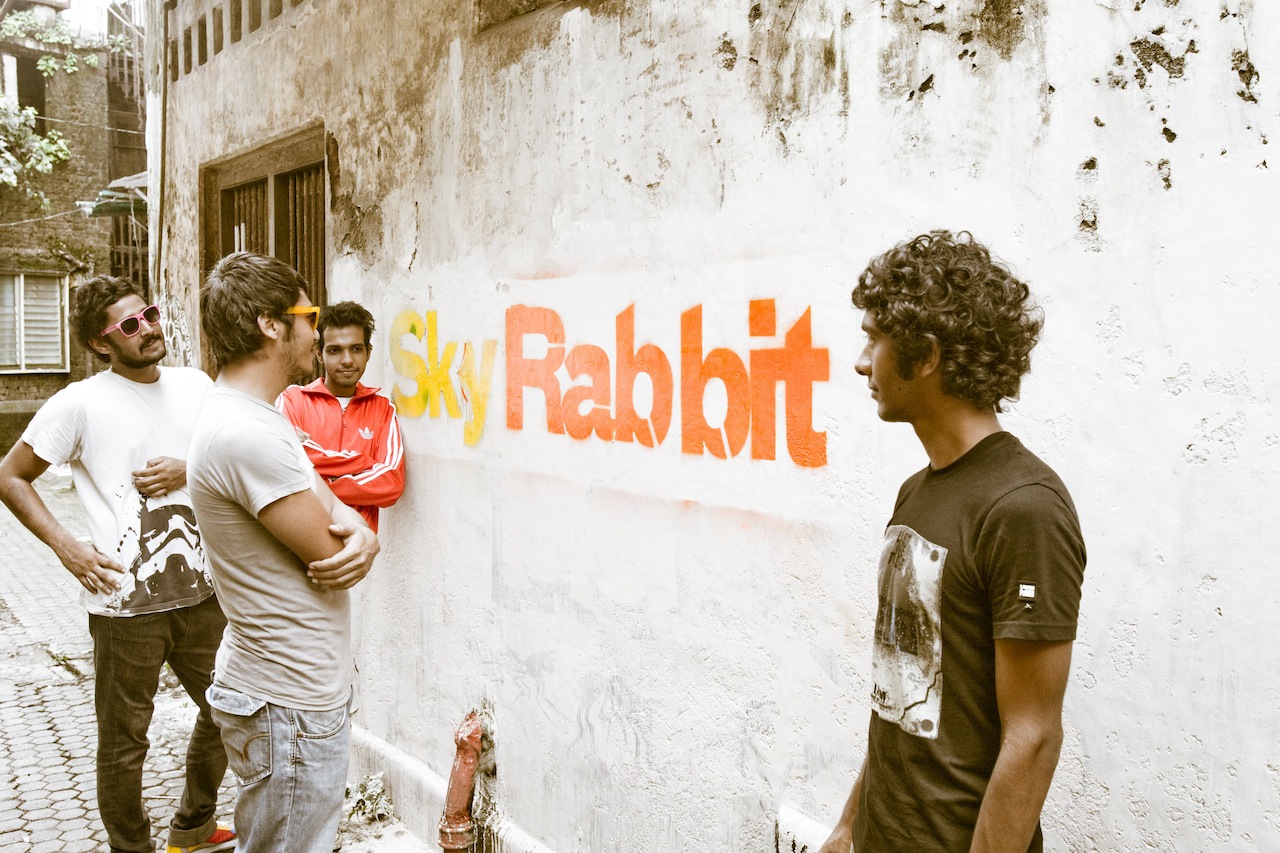 With the new found sound came a shift in the dynamics of the songwriting; the band started working on computers, there were loops and pieces of music that would do the rounds amongst the members who exchanged and developed these ideas. The self titled debut album, Sky Rabbit, was pretty much written in the bedroom with humble beginnings; and the EP after that, Where, was written mostly in the jamroom. "Everything just clicked, we would just be fiddling with loops and stuff, and experimenting a lot, like, knowing what goes with what, and we did this as a unit," says drummer Harsh Karangale. The re-defined Sky Rabbit was accepted by their fans with much appreciation, appealing to and gathering a bigger crowd with their refurbished sound. "I've always thought of us as a band that just wants to write songs and sort of help us around to reach our full potential basically, and allow us to have our own feet and develop.", Raxit says.
This year, the band is setting themselves up to play at the 100 Pipers India Music Week 2013, happening in the first week of December, and possibly letting out some new music into the crowd. The band is always mysterious about their plans for live shows, always keeping an element of surprise. But their excitement about playing seems palpable, "We are really looking forward to playing at the India Music Week this time around," Harsh says, "and I think it might be the last show we are going to play in Mumbai this year. So it's going to be a blast man." Raxit seems to be excited about checking out a few artists playing at the festival himself, saying: "It's going to be a lot of fun man, and I'm really looking forward to seeing Jaga Jazzist. I've only heard their music and never seen them and I think that's going to be pretty fucking mindblowing."
Visit www.indiamusicweek.com for more details about the festival