The Mumbai duo, Madboy/Mink, have been making generating quite a buzz with their eclectic music and engaging and energetic live sets. We had a short chat with the band about their music and their identity, among other things.
Madboy/Mink have been active for only a year since their constitution and have played shows all over the country. Suffice it to say, Madboy (Imaaduddin Shah) and Mink (Saba Azad) have a surprise always waiting for their audience. Influenced by old blues, and new electro swing sounds, one gets a whiff of the likes of Chinese Man and Parov Stelar. Apart from their startlingly successful acting careers, this is another feat accomplished doing its dutiful rounds. The duo plays the 100 Pipers India Music - III this year, taking the stage along with Zoo, PINKNOISE, Success, and Samsaya on December 5 at the Blue Frog, Mumbai. Make sure to catch their quirky, eclectic sounds on the night.
MEDHA SINGH
Medha Singh: Apart from designating yourselves quirky identities, does the name fulfil other purposes that we might not know of (aesthetic or otherwise)? An inside joke? A familiar code of endearment? What were your other considerations?
Madboy/Mink: This is definitely a question we get asked a lot. It's quite simple, really; Madboy and Mink are both of our respective solo acts. Imaad's been producing solo with that moniker for a while now, and it stems from an old pet name of his. Saba looks and behaves like a Mink which is a small furry animal – so we thought that just combining those two names would be simple and unpretentious. Though we considered stealing the name of Saba's theatre company 'The Skins', we decided against it.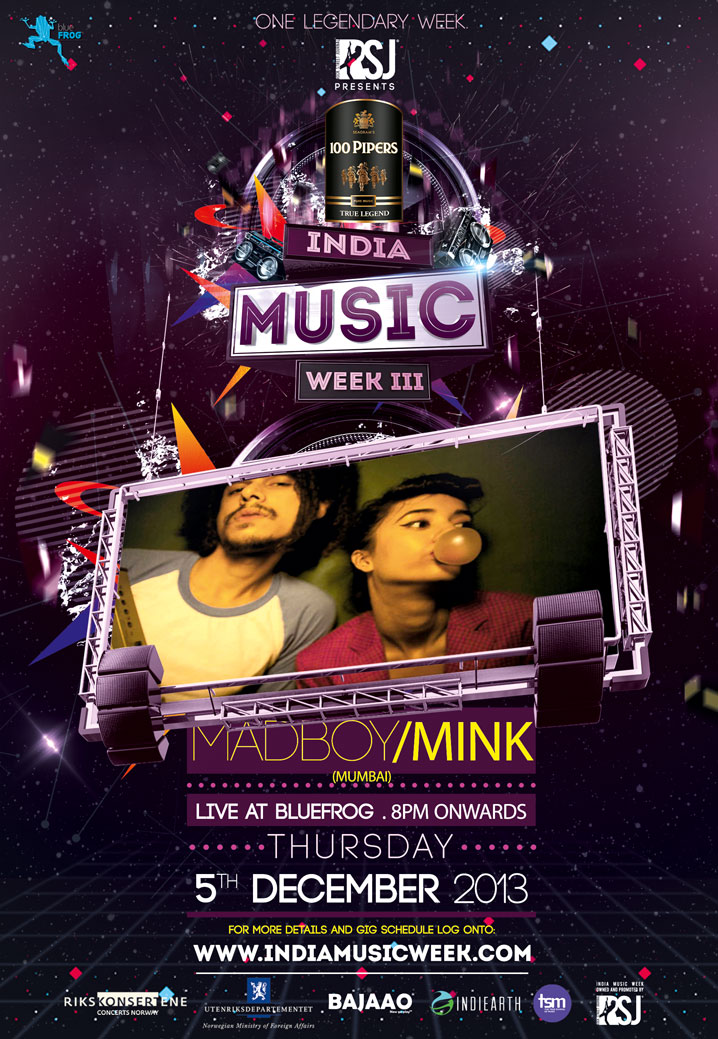 MS: Are you looking forward to the India Music Week? What are your most preferred venues in the country?
M/M: Yes, we love playing in Bombay to home crowds and the lineup for the night looks interesting too. RSJ should be supported and that is mutual. As for other club venues, The Humming Tree in Bangalore has a very friendly, happy vibe. High Spirits in Pune is also always lovely. Venues that are run by warm people are always nice to play at. The good energy of the management filters through to the artist and definitely to the audience.
MS: I was there for your first show at Cocaine in Delhi. Did you specifically expect the dance crowd in the city for your shows at the very outset? Did you always have an audience target in mind?
M/M: We don't really make music with a target audience in mind. Forcing something out of your system, for the audience's sake never ever works. We just stick to what we do – our individual sound – and we've found that that is actually the best way to get a listener to relate. Fads will always be short lived and they'll continue to change but sticking to our own musical instincts and carving our trademark sound is what we do.
MS: Who is the one artist you would give anything to collaborate with (alive or otherwise)?
M/M: We could do a jam with Caravan Palace, that'd be fun. And maybe work on a tune with Prince.
Watch a short clip of Madboy/Mink interpreting 'Hello Operator' by The White Stripes below:
MS: Which artists do you obsessively listen to?
M/M: The answer to this question would take up a lot of space. And if the two of us gave separate answers, that would really go on forever. But yeah, these days we've been listening to a lot of big band swing and new producers who are doing interesting stuff with it. Gramatik, Caravan Palace, Swing Republic, to name just a couple... and of course the classic stuff – Glen Miller, Billie Holiday, Benny Goodman, etc. The funk is also a very integral part of our sound – and we love the old school – Meters, Sly and the Family Stone, Isaac Hayes, James Brown, etc... and the new school – with Shook, Breakbot, Justice, etc. Delta Blues is something we love too...so is punk, post punk, and disco punk...anyway, this list will just go on. Of late we've really been digging classic NY style disco and we are headed a little in that direction too.
MS: What blues artist do you despise the most?
M/M: Haha. It's a little hard to despise a blues artist right? They ain't done nobody wrong...
For more details about the festival, visit www.indiamusicweek.com