It's standard protocol across some public forums to not mix your alcohol with Bhanuj Kappal. But we're not much for rules and all that and so we sent them to the Sky Rabbit gig together. This is the first in a series of adventures.
The last time I saw Sky Rabbit (they were known as Medusa then) live was sometime in 2007 or 2008 at a gig in Bandra East organised by SWAT (Students Working Against Tobacco. Yes). They'd made the transition from industrial rock to groove-box toting electro-indie a while back and earned the eternal enmity of the young male rockists who made up the scene then. To make it worse, they were terrible live. They were still working out their sound and figuring out how to deal with unreliable equipment, and the hateful aggression directed towards them by a large part of the crowd probably didn't help. My own rockist tendencies at the time were only partly balanced out by my need to be open-minded as a music writer. I'd keep trying to give them a chance, but I remember the SWAT gig was a turning point. Two songs into the set, I said 'fuck this shit' and left to go get a cigarette (obviously), deciding to wash my hands off Medusuck (we were a really witty scene back then).
Cut to 2013, and I'm running out of office early to go spend a couple of thousand bucks (cabs, entry, blue frog quarters) to see the same band play a weekday set at the Frog. I know the lyrics to most of their songs by heart and am drunkenly ambushing everybody I meet who was around back in 2008, slurring my disbelief that this is the same band that used to take forty minutes to set up on stage just so they could murder National Anthem for us once again. Not that I didn't know that Sky Rabbit was going to be good. I'd seen the live videos, written a couple of pretty laudatory reviews of their album, and had absolutely everyone tell me how great they were live. But it's one thing to know this, and another to experience it.
The show started with Blue Frog screening a video they'd made with the band, performance shots interspersed with interviews with the band about their trip to Brighton in 2009 and other such stuff. Then the band got on stage, skinny jeans et al, the perfect picture of indie hipster-ity. That slacker indie vibe is all pervasive with this band, from their clothes to their videos to their music and live act. And they pull it off ridiculously well. Unlike most Indian bands, their studied indifference doesn't come across as affected or put on.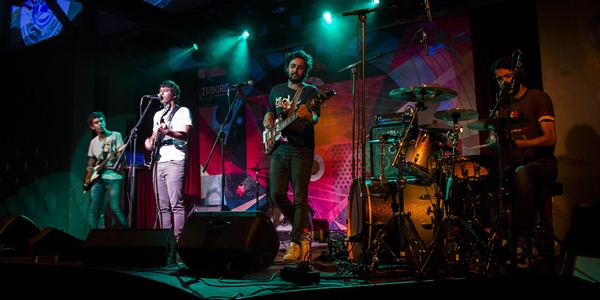 I know this is supposed to be a gig review, but there's nothing I hate more than writing "The band played X, and the drummer did Y and the bassist wowed everyone with his Z" so I'm going to skip that part. Instead, here's a collection of random thoughts that went through my head:
"I still can't believe this is Medusa."

"Man, this Blue Frog Quarters deal isn't so bad, is it?"

"Fuck, these guys are good."

"Look at these fucking hipsters, standing with their arms folded like it's an old school metal gig. Move ya fecking bastards, move!"

"Man, these guys should have played at the Gwdihw in Cardiff. They'd have a packed dance floor with everyone grooving along."

"Fuckit, I'm going to sing along even if nobody else will."

"The new songs are nice."

"Ooh, reworked Anti-Coke Ganpati. I still have no idea what those lyrics mean."

" 'Maybe Is Open Tonight' could be an advertising jingle for Mae B in Bandra. I'm so funny I'm killing myself. Hmm, maybe I'm drunk."

"WHAAAT? No encore?"

"Okay, who's got the weed?"

And then I proceeded to stumble around getting wasted till I remembered that I had work the next day and I needed to get home. All in all, good gig. Next week, I'm going to break into the Sky Rabbit studio and try to steal an advance copy of their upcoming EP. Stay tuned.