Sure, the rock music awards thing wasn't open to the average rock music patron - Entry by Invitation Only - which is kind of divisive, but here's a review of a fun evening at this year's JD Rock Awards, honouring indie musicians for releases in 2012.
I don't go for gigs nearly as often as I would like, but I did show up at the Rolling Stone JD Tissot Rock Awards, and for better or worse, there was no Zero reunion secret set. The awards are no Oscars, really; but hey, independent music in India is no Hollywood either. It was an enjoyable evening with an open bar and everything, and it concluded with an "all-star jam band" (obviously; it's the newest in-thing, and I'm guessing it allows organizers the legroom to not piss off all those entitled bands who believe they should headline such an event). They covered a bunch of songs written by Indian acts, from Zero to Orange Street to Them Clones to other usual suspects. And they also played one song which sounded suspiciously like Pearl Jam's 'Even Flow'. My own view on these "all-star bands" is skeptical at best – the elitist, self-congratulatory glorification of a mediocre scene that barely exists is something I can't quite stomach, but that's an argument for a different day; it's a novelty thing which is maybe starting to wear a little thin but then they did put up a competent show.
In any case, those guys finished off the evening with a song where practically every single musician – at least 11, if not more – who'd performed on the five or six or seven songs came back on stage to croon the chorus lines to it. Now, if I had wanted to witness expert utilization of stage space by dozens of adept musicians, I'd have gone for a Ska Vengers show. Or one by Something Relevant (hah, more on them later).
But let's rewind a bit. The 'Best Venue' award went to Blue Frog, Mumbai. It elicited my first chuckle of the evening, since the rock awards themselves were being held at Mehboob Studios in Bandra (there's a cruel meta-joke in there but I'll abstain). It was a massive auditorium with a huge ceiling that had this very innovative-looking padded black scaffolding. The left and the right sides of the space were the most crowded, hosting as they were the two identical open bars giving out free whiskey. And if there's one thing indie music patrons like more than music and arguing, it's intoxication. The stage had a large screen behind it which played out snazzy visuals while the musicians performed, and on one side of it was Daddy, the host of the evening. Or at least that's what Ryan Seacrest (or P-Man) called him (his real name, I learned later, was Sameer Malhotra). From my vantage point, he looked like Breaking Bad's Walter White. I should also state that Heisenberg was a very affable and well-spoken gentleman who loves Bangalore and was very hard to dislike.
His trusted sidekick P-Man's job was to roam around in the crowd with a mic and a cameraperson, speak to people, distribute free merchandise, and promote the brand. Apparently – and this is pure conjecture – he was also supposed to bring some comic relief to the proceedings, although, in my personal humble opinion, I do think he failed at it, though the attempts were indeed laughable. E.g. he asked a gentleman in the crowd how tall Jack Daniel was. He also asked two ladies to scream out his name (P-Man, not Ryan) on the mic if they wanted to win free stuff.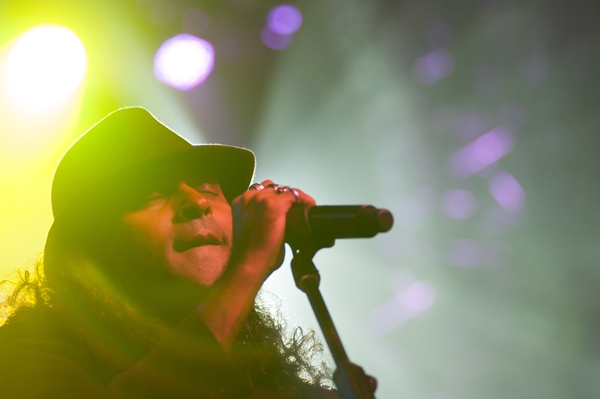 Garreth D'Mello from Split in another galaxy (Photo by Prashin Jagger)
Bombay's Blek opened the show, and while I love these guys and they were excellent on the night, there was something very 'corporate punk' about the performance. There were hardly any people in the audience by this time, and the ones who were were mostly seated or very passive and unresponsive – in fact, due to the sheer size of the venue, it never looked full. It could have fit, by my conservative estimate, at least 20,000 indie music-types, egos and everything. The number on the night was way lower though. Blek kept trying to rev up the crowd (unsuccessfully), but there was this odd and very endearing energy about them which made the stage literally vibrate; the drummer packed a hell of a punch, while the bassist – a man of considerable heft, like every single bass-player in the world – was jumping every now and then. I was hoping for that precariously-balanced Fender amp to come tumbling down, but alas.
It was fun, all the more so thanks to the guys who kept passing by and offering me these quite appetizing starters on toothpicks to complement my whiskey. Yes, ladies and gentlemen, the rock awards were a catered affair. Like any other Indian wedding, these awards also had those round tables with seats covered in black and white sheets, waiters serving seekh kebabs, drunk old uncles, and hordes of Converse shoes. The only thing missing was the white tissues that wrap around the glasses of whiskey to conceal the contents of the glass.
Up next, there were some more awards, with most of the winners either unavailable, or just simply very bland. People thanked their band mates, their managers, their labels, their families, sometimes even god, and they were generally very happy. There was no arrogant posturing, no scandal, no fizz. All very humdrum and blah for an eager journalist with dreams of being a paparazzi one day.
Apparently, Something Relevant also took the stage. I wouldn't know, though, since I was fast asleep during the 20 minutes-or-so that they were on stage (not that I'm calling them incredibly mind-numbingly boring or anything, not at all). Apparently, their guitar-player wore salmon-coloured jeans, which is what I could gather from the two girls standing next to me whom I was eavesdropping on.
So I woke up, took a trip to the portable box toilet in a far away corner of the venue, and, well, I don't mean to nitpick, but there was no water in the taps or the flush, no lights, and the door barely locked. That's one portaloo I'm never going back to. The organizers really had no business chintzing out on the loos, especially considering how extravagant the rest of the production was – heck, there was even that huge brand backdrop in front of which fancy people in elegant dresses and tuxes pose hugging each other for hungry photographers. So why were the bathrooms so shitty? Anyway, there were some more awards, some more of P-Man ensnaring unsuspecting people in the audience, some more of Mandira Bedi admitting she knows very little about indie music here, some more performances, and then it was over. A mad rush to the bar ensued, as expected, and here the organizers were perceptive enough to leave them open. They allowed people to hang around, fraternize, and drink for a while after the whole shenanigans were done and dusted with, after which the crowds began stumbling back to their respective destinations.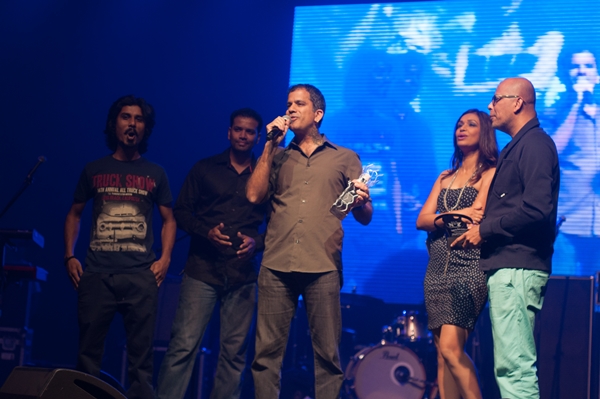 Uday Benegal (Indus Creed) gives his thanks (Photo by Prashin Jagger)
Notable Mentions
The tributes to Clarence Gonzalves and Gyan Singh were a nice touch and the audiences respectfully applauded them.
--
In the 'Best Vocalist' category, one of the nominees was Advaita's three vocalists. Umm…I don't…? Does that mean that the three of them together are worthy of one nomination? Does it mean that they're equally good but the jury wanted to save space so they clubbed them together? Or does it mean that the jury couldn't tell which one was which and so they just decided to put all three in to save any potential blushes? It's a mystery is what it is.
--
The real star of the evening was not Mandira Bedi or Yukta Mookhey or all those other special guests who came on stage to hand over awards. It was that gloriously white cat in the crowd. The feline, sensing that a rock music-loving audience will naturally consist of lots of disturbed crazy cat lovers, stuck around, and was duly rewarded by hundreds of petters. Let's just say the cat shamelessly lapped it all up.
--
Sticking to the people handing over awards to winners, what's that all about? So you have a girl who brings an award on to the stage. Then you invite 'special guests' to come on to the stage. The original girl, the one who's holding the award, hands it over to the special guests. They then hand it over to the winner. It all sounds very farcical. There's far too much passing of things going around.
--
Very conveniently, a few of the awards were "Ties". Come on, that's a cop-out; take a stand. For e.g., Advaita and Swarathma shared the 'Best Album Art' award. Hmmm, is that a language thing?
--
The most intriguing, however, is the curious case of Jason Zachariah (Jason Zachariah Band). He (along with Zubin Balaporia of Indus Creed) won the 'Best Keyboardist'. But then, the nominees also included Jason Zachariah of Allegro Fudge; what, then, about him? Are these the same person (I'm guessing they are and this a rhetorical question)? On the other hand, who the hell cares about the keyboard-player anyway? (Another rhetorical question. The answer is keyboard-players.) This nomination was sort of like the antithesis of the Advaita vocalist dilemma.
--
One of the guests called on stage to hand over an award, evidently some fashionista-type, accused the indie music audiences of being "total nerds" and said people need to start dressing better. Little does he know that we dress like hobos because we have no money and no taste.
--
The "all-star band" featured two drummers. Hey man, we live in a world where DJs and musicians argue incessantly about the philosophical conundrum of pressing the play button while making the most constipated face this side of the bathroom door. It's a world where Apple laptops and electronic music have made drummers pretty much redundant. So was getting two flesh-and-blood guys behind the kit some kind of statement?
--
The very genial Heisenberg/Daddy/Sameer Malhotra didn't resort to unnecessary jokes while compering. However, his one crowning moment was when, after Something Relevant's performance, he thanked the band for "flying in all the way from South Bombay". It was hilarious.
--
I may or may not have drunkenly ambushed Suman Sridhar (of Sridhar/Thayil) to compliment her on her singing. She thanked me and, to get rid of me, she handed me a fake glossy thousand rupee note. The auto-rickshaw guy I tried to pay using that note threw it back in my face and threatened to beat me up.
Follow the writer on his Twitter