Aditya Varma interviews Warren Mendonsa, the brains (and pretty much everything else) behind Blackstratblues, and the guitar player for seminal act Zero. 
(Photo by Ashish Seth)
A peep into Warren Mendosa's mind reveals to the average Joe how he lives and breathes music. He happens to be a producer, recording engineer, guitarist and founding member of Mumbai's seminal band, Zero. This time around, the Mumbai-based musician and virtuoso guitarist is set to address the blues and jazz grooves in everybody's nervous systems at the 100 Pipers India Music Week 2013, as Blackstratblues performs along with Spud in the Box, The Supersonics, Sky Rabbit, and Soulmate on December 8 at the Blue Frog, Mumbai. We salvaged an opportunity to speak to Warren about his music, future plans and what he plans for the night of musical psychedelia.
ADITYA VARMA
Aditya Varma: How would you describe the music you play? What direction do you see yourself heading in?
Warren Mendonsa: My music with Blackstratblues is mainly instrumental, though we do have some songs with vocals. It draws a fair bit from '60's and '70's melodic blues-based rock, as those are my roots musically. There's a fair bit of ambient, electronic and psychedelic influences that tend to creep in as well. At the moment I'm in the process of mixing our third album, which is the first one to be recorded in Bombay. It's a city of many contrasts and I think this shows in the music.
AV: Tell us a little about your past two releases as Blackstratblues. How has the experience been since the release of your debut album?
WM: The first two albums were recorded when I lived in New Zealand. At the time of the first album, I had just moved there, and it was just a way of recording some unfinished ideas I had at the time. My brother Zorran programmed the drums on most of the tracks, and I played bass and guitars. It's pretty accessible melodically, with the guitar as a dominant lead voice. It was something I had been wanting to do for a while at the time.
The second album came about more organically, with Cole Goodley on drums, Johnny Barker & Emma Walter on vocals, and Jared Kahi played bass on a couple of songs. These musicians are world-class at what they do, so their contributions brought a lot of inspiration to the music. The guitar was now free to take a back seat at times and then have a larger impact when it was brought to the fore.
The funny thing is I never initially intended Blackstratblues to be a live project, but playing the music live over the last five years has been far more rewarding and educational for me musically than I could have hoped for.
AV: Tell us a little about your songwriting process and how you approach songs and music.
WM: I don't really have a fixed process as such, but by and large I tend to accumulate musical ideas and then begin the recording process when I have amassed 8-10 really good ones. These could be as simple as a basic chord progression or I could have a pretty complex demo recording. Some of the ideas get combined into a single piece of music, which is what happened with 'Ode To A Sunny Day' and 'Ode To A Rainy Day'. With others, I may write additional parts during the recording process.
AV: We believe you said that you feel you work best in collaborations; what have your most interesting collaborations been recently? Are there any collaborations that you love in particular; your most memorable experiences, if you will?
WM: For me, music is a lot more fun when you're not on your own. I think working with musicians who I can trust and who inspire you can bring far better results than anything I can do by myself. Zorran's drum programming brought a lot to the first album, and Cole Goodley's drums inspired a lot of the phrasing of guitar parts. I recorded an album with Emma Walter, and I've learned a lot more about music from her than any music school could have taught me. Recording albums with Lorina Harding, Donna Dean and Nikhil D'Souza was very rewarding too.
I've been working regularly with Karsh Kale since we met at the 2011 NH7 festival in Pune. He's an awesome guy to work with, he usually brings a lot of positive energy to anything he works on. The Dewarists finale track we did in Scotland last year with Carl Barat and Papon ('The Minstrel's Tale') was heaps of fun throughout the entire process.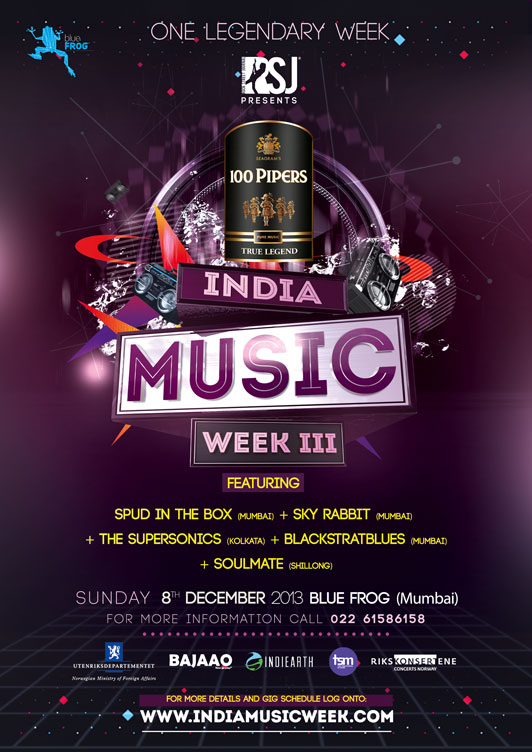 AV: Do you have something special in mind for the 100 Pipers India Music Week this time around? How do you feel about the idea of the India Music Week, and how do you think it is important to the scene?
WM: I think at this point in time the Indian independent music scene may be seeing some of its best music yet, and anything that serves to showcase this to the world is a good thing. Amit Saigal was an old friend, and his contributions have made a lot of impact.
For our IMW performances, we may feature a few collaborators, subject to their availability. It's a busy time of the year : )
AV: How different is the experience of playing with Zero versus playing as Blackstratblues? How different is the approach?
WM: I didn't have a mic in front of me in Zero. I loved that!
AV: Can you tell us about some of the artists in India that you like or appreciate?
WM: Pentagram, for still sticking together and kicking ass after all these years. Soulmate, for their honest and invigorating approach to the blues. I love Nikhil D'Souza and Nischay Parekh's songwriting, and Tajdar Junaid from Kolkata has just released an album that I absolutely love. Spud In The Box is a bunch of kids that is already writing some great music.
AV: What are you up to at the moment? And, what are your plans for the near future? Any new releases planned?
WM: At the moment we seem to be gigging a fair bit, so the recording side of things has taken a back seat. The plan is to put the album out as soon as possible and then do a few more gigs in support. Hopefully we can play to newer audiences in different cities and maybe abroad, if we can make things work logistically.
Click here for more details about 100 Pipers India Music Week - III